If you're reading this, then you probably know what Obstructive Sleep Apnea (OSA) is. You might have been suffering for years, recently diagnosed, and you are looking for treatment.
From a study published in July 2019 by The Lancet Respiratory Medicine; which included 17 studies in 16 countries, the estimated number of people affected by OSA is 936 million worldwide. 425 million of those have moderate to severe symptoms which may require CPAP treatment. And yet amazingly, OSA is not a well-known condition in most of the world, so you're probably not the only one seeking out information on effective treatment.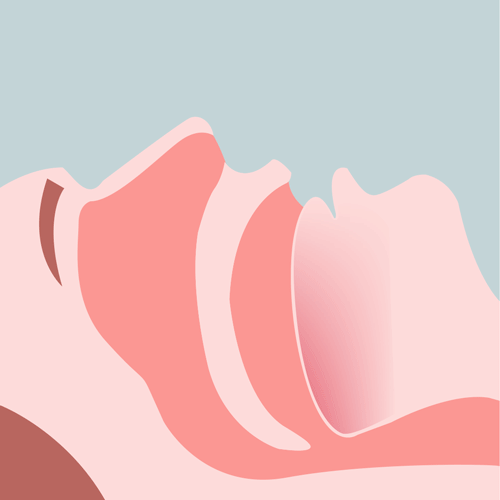 With each apnea episode you can stop breathing for around 10 seconds, starving the brain of oxygen. People who suffer from undiagnosed Obstructive Sleep Apnea can wake many times every hour from this process.
OSA, the NHS and Intus Healthcare
In the UK there is the National Health Service (NHS), and if you are a UK resident, you may be referred (by your GP) to a local sleep disorder center to receive a sleep test (which could include staying overnight). If you're found to be suffering from OSA then the NHS will provide you with sleep therapy equipment (a CPAP machine and CPAP mask) at no charge.
There is another way though, a private provider. If you live in the US, you're probably more used to dealing with private healthcare and know that getting any treatment is based on how much you can afford. This axiom can be said for many things, but private healthcare solutions have their benefits too.
At Intus Healthcare, we pride ourselves on our service and the choice we offer. When someone is concerned they are suffering from OSA, we would definitely encourage them to speak to their doctor, but there can be consequences. If you are diagnosed with OSA, then the DVLA (the UK's driving licence authority) will need to be informed as OSA can affect your driving. The NHS is not quick when it comes to scheduling sleep tests, and it can take six months before you receive treatment. With the pandemic putting more strain on NHS resources, sleep tests and treatment could take even longer.

Stages to Receiving the Treatment You Need
Intus Healthcare has a comprehensive service available.
Stage One: Our in-home sleep test is conducted in your home (in your own bed) and is one of the most accurate available on the private market (WatchPAT). Plus, Experienced NHS-qualified sleep professionals independently analyze all of our study data. We also have a team of friendly and knowledgeable people at the end of a phone who will help you through the whole process and give you advice. We do not inform the DVLA, this is a private test, but if you do test positive for OSA, we can also help you purchase the right CPAP machine and CPAP mask. Plus, our sleep test has free next-day delivery, and we plan to get your results back to you in seven days. That means you could potentially be receiving CPAP therapy within two weeks.
Note: If you wish to purchase CPAP therapy equipment from Intus Healthcare, you must have a letter from your doctor or have tested positive from our WatchPAT in-home sleep test. In our customers' best interests, we only provide CPAP equipment to those who will benefit from it.
Stage Two: If you're ready to purchase your CPAP machine, CPAP mask and other CPAP equipment, Intus Healthcare has you covered. We have the widest selection of CPAP equipment available and the most knowledgeable team to advise you. Take our host for this advertorial (Circadiance); they produce one of the only alternatives to the standard plastic and rubber CPAP masks. There may be many reasons you might prefer a cloth mask, such as comfort or because of an allergy to plastic. There are products to help, but the NHS typically provides a limited range of options for machines or masks. Only by going through a private provider, like Intus Healthcare, can you tailor the equipment specifically to your preferences and requirements.
When it comes to choosing the best CPAP mask for you, here are 12 reasons to Ditch the Plastic.
CPAP Therapy is a Proven Treatment for OSA
We see many customers who are grateful for the NHS supplied CPAP equipment but stop using it because the equipment provided is uncomfortable, impractical, or simply doesn't fit. This is where the broader range of options provided by a company like Intus Healthcare can help. With dozens of mask options there is one to suit almost every CPAP patient. Just because the equipment provided does not suit you, you do not need to endure discomfort or give up on CPAP. Our experienced and friendly team can help identify a better option, to make sure you benefit from CPAP therapy and sleep-in comfort.
CPAP therapy (Continuous Positive Airway Pressure) was invented in 1980, by Dr Colin Sullivan, and has been the proven treatment for OSA for over 50 years. Still, it might not work immediately. You may require additional or alternative equipment to make it comfortable long-term, and you must keep using the machine and mask to combat OSA.
About Intus Healthcare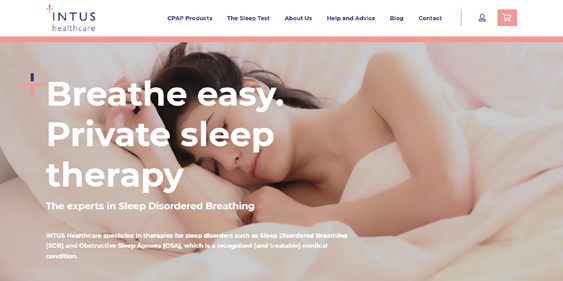 "I knew I had a problem as I really was tired all the time. This process from sleep test, to results, to getting my equipment, was smooth and hassle-free..." —Debby Mcilquham
For over ten years, Intus Healthcare has specialised in Sleep Disordered Breathing, Obstruction Sleep Apnea and CPAP therapy. We provide a wide range of patient support literature and cater to private-paying individuals in more than 40 countries across Europe.
We also supply well over 150 NHS trusts, hospitals, and sleep clinics in the UK with one of the most diverse and unique product ranges available, derived from a host of manufactures worldwide.
Intus Healthcare is the number one UK CPAP supplier. If you are looking for CPAP, sleep sound and breathe easy. We have the answer to get you the sleep you deserve and improve your life.

Product Pages:
CPAP Machines
CPAP Masks
CPAP Humidifiers
CPAP Products
For Private Patients Intus Healthcare Provides:
Free education and advice for snorers and sleep apneic
Bespoke, fast turnaround, confidential, in-home sleep studies
Therapeutic equipment for the treatment of OSA
Next-day delivery available on 95% of orders
Unique sleep-related aids and accessories