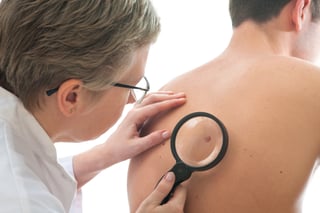 Untreated severe obstructive sleep apnea (OSA) is associated with increased aggressiveness of malignant cutaneous melanoma, according to a multicenter prospective study on the relationship between sleep-disordered breathing and cancer.
"This is the first large prospective multicenter study that was specifically constructed to look at the relationship between sleep apnea and a specific cancer," says lead author Miguel Ángel Martinez-Garcia, MD, PhD, from the Hospital Universitario y Politécnico La Fe, Valencia, Spain, in a release. "While more research is needed, this study shows that patients in the study had markers of poor prognosis for their melanoma. It also highlights the importance of diagnosing and treating sleep apnea."
The study involved 412 patients, average age 55.8, with confirmed cases of cutaneous malignant melanoma. The number of men and women in the study group was approximately equal. Martinez-Garcia and colleagues looked at a number of factors that indicated patients' prognosis, including the Clark and Breslow indices, which, taken together, determine the stage of melanoma.
The researchers found that patients diagnosed with the most aggressive cancers had higher prevalence and severity of obstructive sleep apnea. This relationship held true independent of age, gender, body mass index, skin type, sun exposure, and other risk factors for melanoma.
"The relationship between sleep apnea and heart disease, as well as with automotive accidents, is already well established," says Martinez-Garcia in a release. "Based on our study, it seems a relationship between sleep apnea and cancer may also exist. It is very important, however, that people with sleep apnea do not infer that they will necessarily develop cancer."
This article was originally published on SleepReview. Click Here to View the Full Article