Circadiance will be exhibiting at Booth #23 during the upcoming FOCUS Respiratory Care and Sleep Medicine Conference in Memphis, Tennessee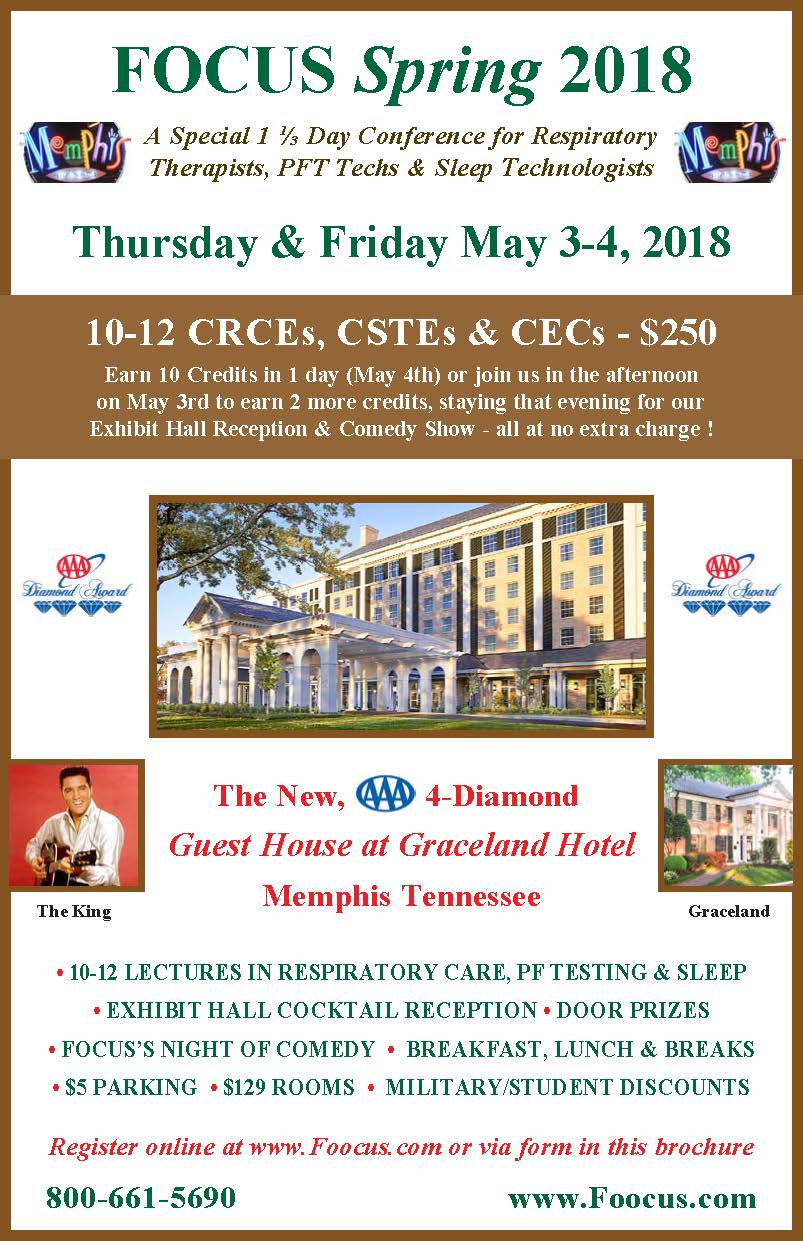 This FOCUS Spring 2018 conference takes place May 3-4th at the new, AAA, 4-Diamond Guest House at Graceland Hotel in Memphis Tennessee which opened only 10 months ago and is simply spectacular.
FOCUS has compiled 12 pertinent lectures for RTs, 12 for Pulmonary Function Technologists and 12 for Sleep Technologists by some of the most esteemed speakers in the U.S. today. Attendees can obtain a full year's worth of credits (10) in just one day (May 4th) or they can join us on Thursday afternoon May 3rd at 4 pm for one of our special, in-depth, 2-credit bonus workshops that run until 6 pm - at no extra charge; thereby earning a total of 12 credits. There is then ample time to have dinner at your choice of restaurants before joining us for our cocktail reception in the exhibit hall at 7:30 pm which will feature exhibits, free drink tickets and door prizes. Later that same evening, enjoy our comedy show from 9 pm to 10:15 pm. Remember, these events on Thursday, May 3rd are FREE for those registered for the conference, but if you cannot attend on May 3rd, remember that you can still earn 10 credits by attending on May 4th only. So, join us on Thursday afternoon to earn additional credits via one of our in-depth, 2-credit workshops followed by cocktails and our comedy show, or, come just on Friday May 4th for 10 credits plus breakfast and lunch if that's all you can join us for.
RT and PFT lectures will be approved for CRCEs while our sleep lectures will be approved for CSTEs and CECs. Our track of PFT lectures will enable PFT technologists to earn 12 credits specific to pulmonary function testing, as well!
The cost of this 1 1/3 day conference ($250) is an excellent value when considering all that is included. Consider bringing your partner and making a little tax deductible "getaway" out of the conference. While with us, enjoy the blues clubs and great BBQ haunts on Beal street (Gus's Fried Chicken on Front St. is rated the best in the U.S.) then maybe even stay over Friday night so as to tour Elvis's Graceland Mansion (1 block away) and/or the Elvis museum (directly across the street from the hotel) on Saturday or Sunday.
Of course, in addition to being an educational forum, let us not overlook the social aspects of what is going to be a fantastic conference in a new, AAA 4-Diamond Hotel where Spring will be in full bloom. Focus has arranged an extraordinary rate for this caliber hotel of only $129 per night with $5 on-site parking and free internet in your room. With the food and fun we also provide, our reputation for great value and great academia continues into our 22nd year. Hope to see you there!
More information on this conference is available at Focus Spring 2018 Conference.