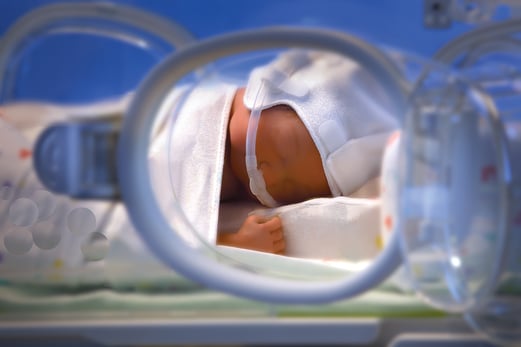 The NeoPAP is a sophisticated CPAP delivery and treatment system developed to treat newborns and infants with respiratory distress syndrome (RDS) or who are recovering from RDS.
The NeoPAP patient interface has a small profile and an ability to be used with both CPAP and flow modes, coupled with Baby-Trak leak compensation technology. The user has the freedom to accommodate the unique care needs of even the smallest patients. The innovative bonnet, nasal cannula and nasal mask designs work in concert to help minimize the need for adjustments during therapy, allowing one to spend more time caring for the patient and less time tending to the device. NeoPAP allows for the creation of an environment where patients can rest more comfortably and focus their energy on growth and development.
Key advantages include a lightweight patient interface made of soft, skin-friendly silicone that does not contain BPA, DEHP, or natural rubber latex. It also features a patient bonnet to help minimize torsional stress placed on the patient interface, and a unique design that virtually eliminates the need to ever tighten the interface to the patient.
The NeoPAP uses three modes of therapy: CPAP mode, flow mode, and resuscitation mode. The device features an adjustable alarm volume control, remote alarm capability, and both visual and audible alarm indicators. The Baby-Trak leak technology eliminates the need for a closely fitted interface seal and helps to reduce pressure on the infant's face. NeoPAP has been shown to measure pressure at the patient interface & actively compensate for leaks and changes in respiration.
To learn more about NeoPAP visit Circadiance.com/neopap/ or download the NeoPAP product brochure.
Click Here to View The Sentinel