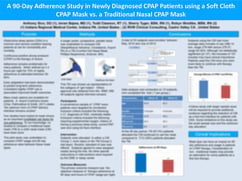 As you know, obstructive sleep apnea (OSA) is a common and serious condition leaving patients at risk for comorbidity and mortality. Continuous positive airway pressure (CPAP) is the therapy of choice. While several mask options are available for patients, a Cochrane review (Chai, Pathinathan & Smith, 2011) stated that "the optimum form of CPAP delivery interface remains unclear".
Few studies have looked at mask choice as an important modifiable risk factor for non-adherence. To our knowledge, no studies comparing a traditional nasal mask to a cloth nasal mask have been done.
This pilot study was undertaken to compare CPAP usage and 90 day adherence rates between these mask types.
Click below to download a FREE copy of the 90-Day adherence study and view the results.